Flexiglass are pleased to announce the release of the FlexiSport Premium (pictured above) and FlexiTrade canopies to suit the 2020 Mazda BT-50.
The latest range of Flexiglass canopies to suit the Mazda BT-50 are out now, giving BT-50 owners quality storage and protection for one of Australia's favourite utes. Available for ordering and fitment now through local Mazda dealerships or approved Flexiglass resellers nationally, prices start from $2,699 for the FlexiTrade with dual sliding windows, or from $3,999 for the FlexiSport Premium featuring all-round central locking. Each canopy features a smooth colour-coded body and tinted safety glass windows to match your vehicle.
"The new BT-50 is a highly advanced and highly capable vehicle and the Flexiglass range of canopies, with their features and build quality, perfectly match these traits," said Matt Logan, Aeroklas Australia's head of customer experience.
Sport by name, sporty by nature
The FlexiSport Premium comes with all the features to add value, aesthetic and a ton of functionality to your vehicle. Fully integrated all-round central locking connects to the original vehicle key system, making vehicle access simple and meaning there's no extra keys required. But more importantly, it provides another level of security for valuables as BT-50 owners no longer have to remember to lock up manually as they walk away from their vehicle.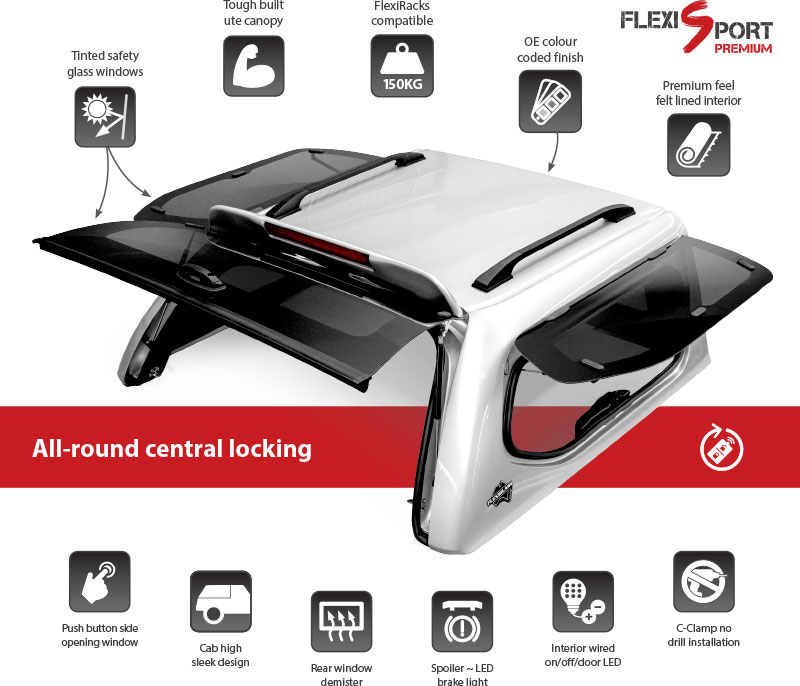 Hands on
Whether it's a busy workday or weekend loaded with activities, most people usually have their hands full. The FlexiSport Premium canopy comes with a sneaky-as-you-like hidden push button for your side windows, so they'll open automatically, hands-free. Better yet, its drop-down front window makes it easy to access and clean the canopy, making dust and dirt accumulation less of a concern.
Made for the trade

Working in a trades industry and in a country with some of the harshest climate variants in the world - you're probably desensitised to how rough and tumble vehicle conditions really are. Any advantage you can muster in this environment is a win in our books. Adding the FlexiTrade canopy to your ute will put you one up, literally. With a raised box roof design to utilise as much storage space as possible, it's the no-nonsense canopy that secures and protects your valuable tools and equipment.

One with your ute
With the market leading knowledge and experience Flexiglass is famous for, you get a seamlessly integrated canopy solution for your ute. One that's built as tough as the business you're in. Constructed from Flexiglass's unique fibreglass and finished with smooth, glossy colour coded paint - the FlexiTrade is your tradies' pick for ute extensions. And it's just as solid on the inside with a durable but yet premium feel felt interior. Nothing is compromised for safety and stability thanks to a C-clamp, drill-free installation.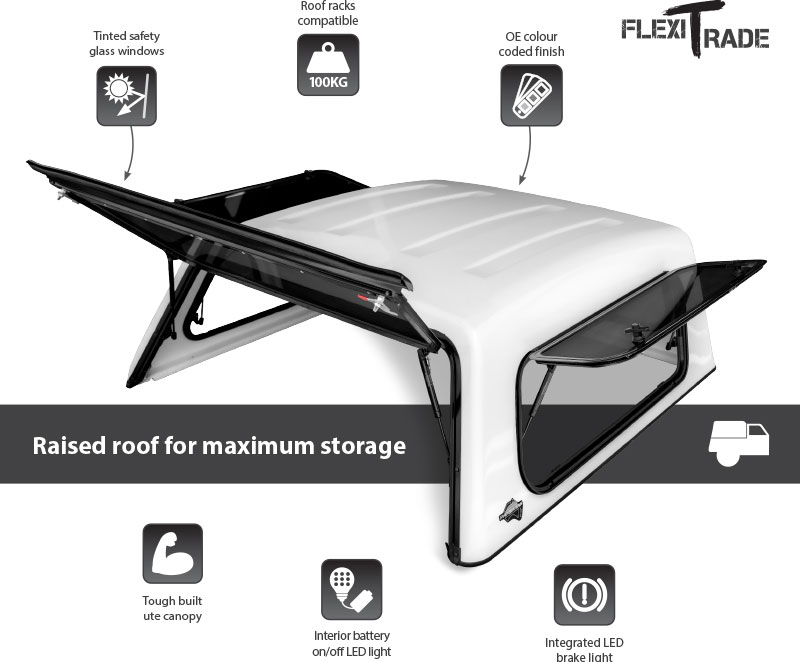 For an instant customised quote on products please follow the links below. You can also submit a fitting quote request to your nearest approved Flexiglass reseller via our quote request cart. Alternatively, please call us on 1300 656 599 for more information.