Flexiglass is thrilled to announce an all-new range of alloy ute trays. Available now, these industry-leading trays are built tough, so you can travel with more and get on with the job, whatever the road throws your way. Prices start at $1,799 for the dual cab model and range up to $1,999 for the single cab variant.
What makes the new alloy ute tray range superior? It's sheer strength and sleek style. At its core, you'll find a heavy-duty yet light-weight aluminium body. This is reinforced by a sturdy floor that features extra structural beams, pushing durability and carrying capacity to the next level.
"Our customers demand resilience, and our new range of ute trays deliver," said Trent Whayman, B2B Marketing Manager. "When you live, work, and play in the unforgiving Aussie climate, you need a vehicle and ute tray tough enough to withstand harsh conditions."
The tray itself is backed by a fully redesigned headboard. Flexiglass has introduced new features, including safety mesh and upright braces, which are securely anchored to three points: the tray's floor beams, the headboard panel, and the chassis rail. This unique three-point system guarantees exceptional strength day in and day out. To finish it off, the headboard panel is ringed by a bold, rugged 65 mm brushed aluminium tube with ladder pins.
"People often overlook the weight of their ute tray, prioritising strength and carrying capacity. But that can be a mistake. We've created a robust solution that stands up to hard use yet is incredibly light. Our customers get the strength they crave without chewing up extra fuel and adding too much to their GVM (gross vehicle mass)," said Whayman.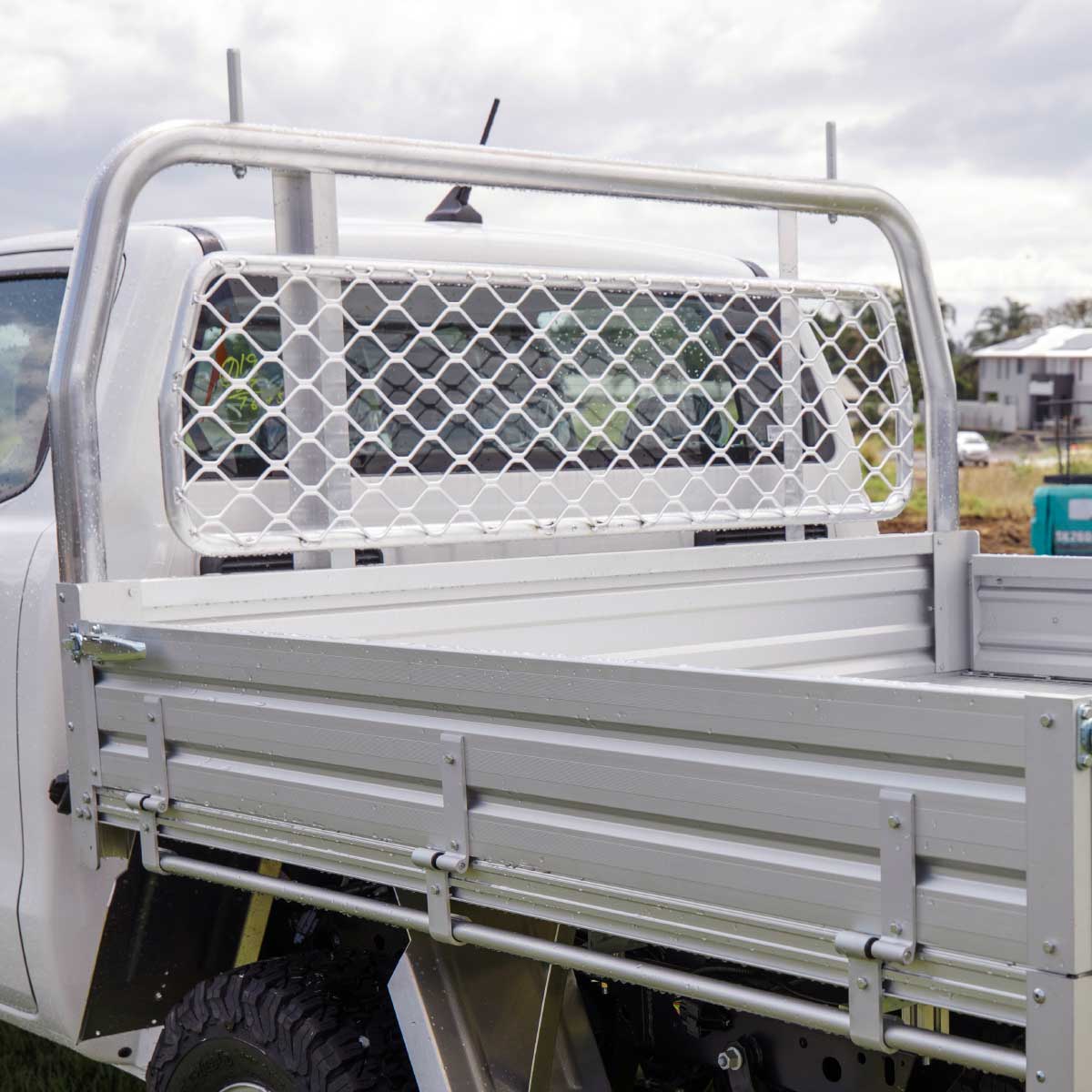 The Flexiglass alloy ute tray comes complete with drop-sides and rear tailgate, both of which are locked closed by new-and-improved over-centre latches. Ease of use was a driving force behind the tray's design, but not at the cost of load security. The upgraded latches give drivers peace of mind.
As for optional extras, the alloy ute tray range includes a 65 mm rear ladder rack, a rear light protection kit, and a matching toolbox. The ladder rack can be removed without fuss to load and carry large cargo.
"Functionality is king, but flexibility is key. We put the power of choice in our customers' hands, so they can drive away with a vehicle that meets their specific needs."
Flexiglass's alloy ute tray range is on sale now via new car Dealerships, Flexiglass and Aeroklas branches or resellers nationwide, offering dual cab, extra cab, and single cab configurations. If you'd like a customised quote, follow the links below. You can also send us a fitting quote request, and we can point you toward your nearest approved Flexiglass reseller or if close enough we can fit it for you. To chat with our team, give us a call on 1300 656 599. We'd be happy to answer your questions.