The NEW FlexiSport Premium canopy by Flexiglass features full central locking to side windows and rear door, along with many other great features. The FlexiSport Premium canopy provides the perfect canopy integration solution for your vehicle.
Featuring full remote central locking to rear door and side windows, this canopy removes the risk of forgetting to lock up before you leave your vehicle, and adds the convenience of no longer needing to carry an extra set of keys to lock and unlock you canopy. Another nifty feature is the push button opening side windows, with the button hidden behind the vehicle cab and front of the canopy, simply press this small hidden button and the side widow will open up fully under its own head of steam leaving your hands free.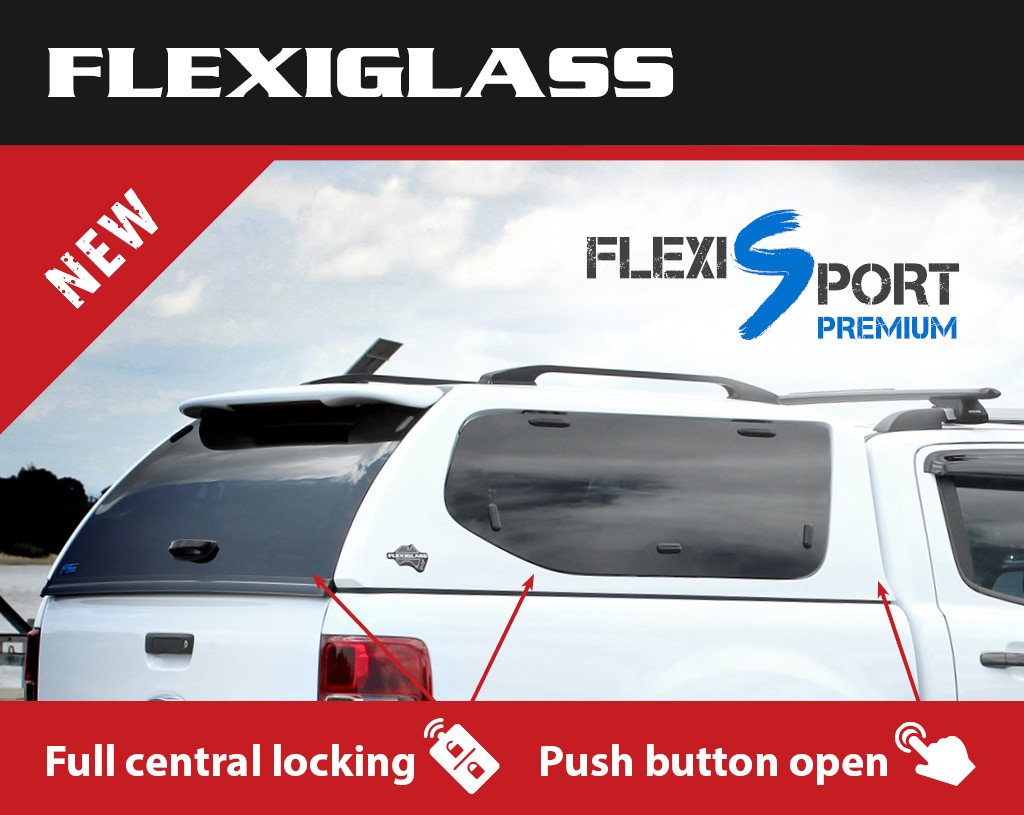 Just like most of the Flexiglass range the body of this canopy is constructed using fiberglass, meaning a tough yet light-weight product, with a smooth colour coded finish available. The tinted safety glass provides comfort and style by reducing glare into the canopy. With the premium felt lined interior finish you could be mistaken for thinking that this canopy was part of the original vehicle build.
This great new canopy also includes integrated features like rear window demisters, for those cold winter mornings and nights, rear spoiler LED brake light and interior LED light with on/off/door functions. It's the attention to detail along with the market leading knowledge and experience that leads to a seamless transition from a canopy-less vehicle to a canopy integrated vehicle solution.
Roof bars come standard with this canopy, allowing for optional extras like a Rhino Racks bars or the 150kg rated FlexiRacks for super heavy duty applications. Pop-up pressure or rotary air vents and matching heavy duty tub liners and mats also available as optional extras.
Colour coded options are available in all your recent common dual cab models including Ford Ranger, Toyota Hilux, Holden Colorado, Mazda BT50, Mitsubishi Triton, Nissan Navara NP300, Volkswagen Amarok and Isuzu Dmax.
Flexiglass is a member of Aeroklas Australia, making them one of the nation's leading vehicle storage solution providers in Australia.