Flexiglass are pleased to announce the release of the alloy ute tray to suit the 2021 Nissan Navara (pictured above).
The latest range of Flexiglass alloy ute trays to suit the 2021 Nissan Navara are available for purchase now, via your local Nissan dealership or approved Flexiglass resellers nationally. Prices start from $1,799 for the dual cab model and range up to $1,999 for the single cab variant.
A good base
Flexiglass trays transform your ute chassis into a true workhorse in every way. Made from tough, lightweight aluminium and reinforced with a heavy-duty coating for corrosion protection, you can set it to carry almost anything. It boxes above its weight with a high strength to weight ratio and a cross mounted interlocking floor plank design and black powder-coated mounting bearers, so you can handle the heavy weights too.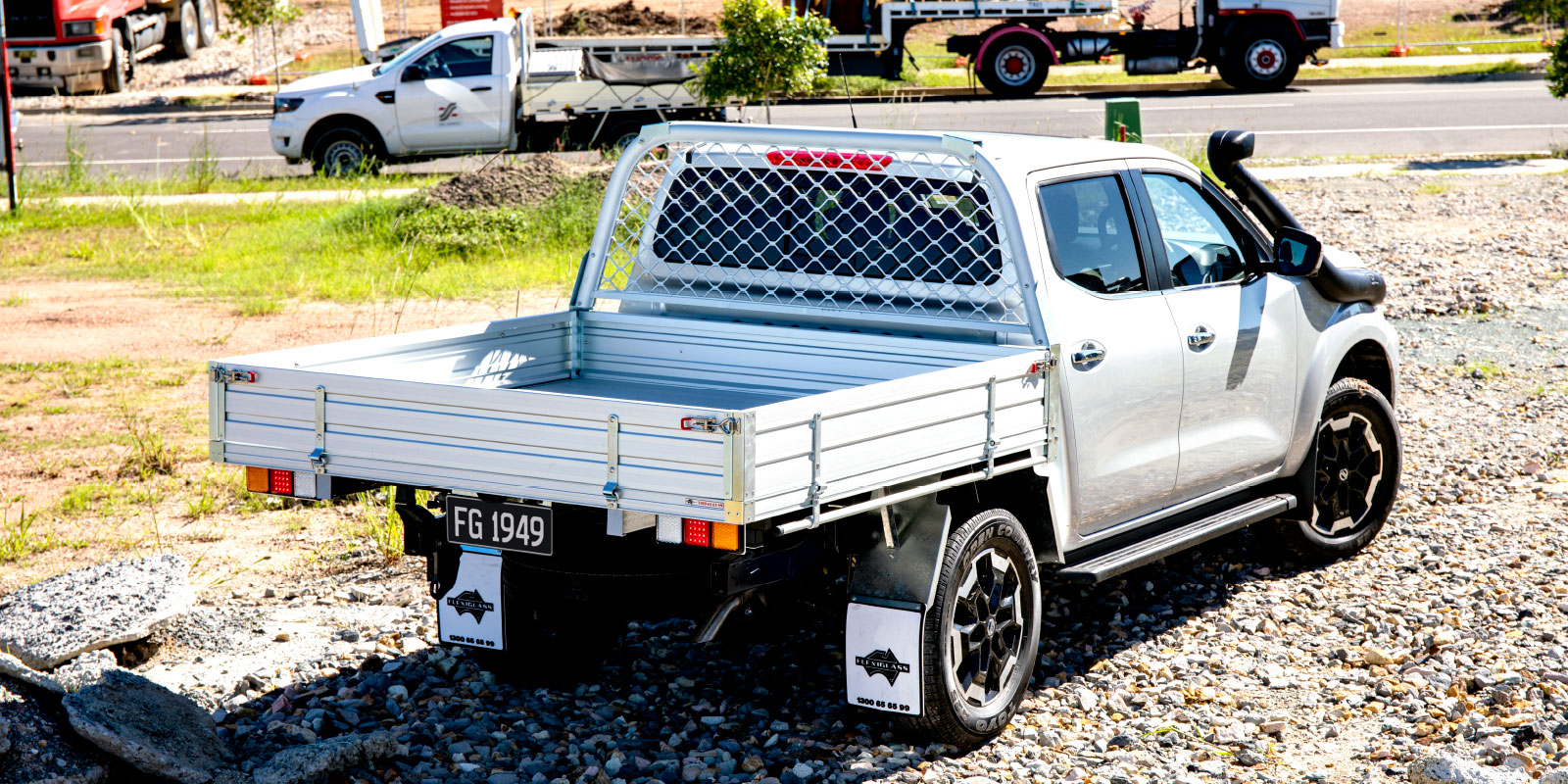 Strong front
Headed at the front with a 63mm diameter tubing with standard welded alloy mesh headboard, it adds an extra level of safety to your cab. Sturdy load stoppers are incorporated into the headboard also, so you can carry ladders and other lengthy equipment above the cab with the simple addition of a removable 63mm rear ladder rack at the back of the tray.
By your side
Strength is maximised by double ribbed alloy on both sides and tailgate. It's a case of 'access all areas' when it comes to reaching everything and cleaning your tray because all sides drop down and lock back up with heavy duty over-centre latches. Need to hold a loose load in place? Strengthened alloy tie down rope rails are fixed to both sides of the tray.

Under the base
It's not always what you see that counts. The Flexiglass Tray is designed with a handy self-drainage system and has a non-skid deck to assist in the run-off. Go under the tray and pressed metal galvanised mudguards keep the elements away from your load at all times.
Adding the extras
The Flexiglass Tray is designed for you to add plenty of accessories that utilise your tray in every way. You can even extend your tray, if need be. Add taillight protectors and side steps for easier access, or a quick release tonneau cover to button down your load. Gain additional security storage for more tools in the way of under tray trundle drawers, or aluminium storage boxes behind the rear wheels. And line your tray with a durable 4mm rubber mat to preserve its condition.
Contact us
For an instant customised quote on products please follow the links below. You can also submit a fitting quote request to your nearest approved Flexiglass reseller via our quote request cart. Alternatively, please call us on 1300 656 599 for more information.